Conference and AGM 2015
More than 100 members banded together on Saturday, 13 June 2015, for our first ever online and in-person Annual General Meeting. Both groups represented members from coast to coast and many took part in the combined voting process that saw the 'new' board extended for the standard two-year terms.
As promised, four of the Professional Development sessions that were recorded and live streamed on Sunday are now available online for purchase at the 2015 Conference page. Payments are made through Paypal (and will appear on your credit card / Paypal statement as 'dhomas trenn store@youngmonkey.com').
2015 AGM Package
Click here to download the 2015 PWAC AGM Package. The document is a secure PDF file. You will receive the password to open this file via email.
PWAC Awards
This year at the joint EAC/PWAC conference, PWAC offers the following awards in writing, editing and volunteer service.
These awards include: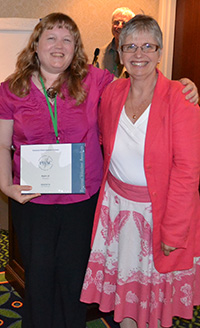 Barbara Novak Award for Excellence in Humour and/or Personal Essay Writing*
Best Feature Article of the Year
Best Short Article of the Year
Editor of the Year
Lawrence Jackson Outstanding Achievement Award*
Regional Volunteer of the Year*
*Only PWAC members in good standing are eligible for this award